What Is JDEX Styles
JDEX Styles is the go-to outlet for sustainable fashion. Whether you're looking for a personal stylist, a new (or pre-owned) beautiful handbag or expert fashion advise, we have you covered.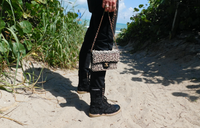 About Jennifer
I was born with a passion for fashion and an eye for styling. With over 30 years of Designer Retail Experience ranging from the Personal Stylist Director, National Designer Apparel Buyer for Nordstrom to being a National Retail Director for Designer Apparel. Most recently I have spent the last 11 years owning my own designer resale shop in Palm Beach Gardens, FL. I am excited to spread my expertise throughout the digital space. 
What feeds my soul is styling customers with sustainable, designer resale fashion to give you the beautiful look you are craving without breaking the bank. 
I pride myself on the superb customer experience you will receive while working with JDEX Styles. I look forward to working with you soon xo.
Customers Are Saying:
Jennifer is fabulous and her boutique is a gem filled gorgeous designer clothes, shoes, purses and accessories. The merchandise is new or nearly new in pristine condition. Jennifer has a keen eye for quality and a knack for making you feel special.

Harriet A.
You cannot ask for a better place to bring your high end items to be sold. I am beyond satisfied with my experience. Jennifer is a class act. She sold every item that I brought in.

Andrea P.
Great designer items, in excellent condition, at wonderful prices. Plus the best ever customer service ! Jennifer goes above and beyond.

Maria B.